---
Helping your child with PHONICS!
---
Phonics works best when children are given plenty of encouragement and learn to have an appreciation of books and reading. Parents play a very important part in helping with this. Phonics is taught daily throughout Foundation Stage and Key Stage 1 and it is broken down into phases to make learning structured and accessible.
Phonics Policy Kibworth Primary 2019
Phonics vision and policy at Kibworth C of E Primary School
What is phonics?
Phonics is a way of teaching children to read quickly and skilfully. They are taught how to:
recognise the sounds that each individual letter makes; identify the sounds that different combinations of letters make - such as 'sh' or 'oo'; and blend these sounds together from left to right to make a word.
Children can then use this knowledge to 'de-code' new words that they hear or see. This is the first important step in learning to read.
When children start at Kibworth in FS they start their phonics learning journey at phase 1. This phase is all about speaking and listening which should embed the foundations before starting phase 2.
There are 7 aspects to phase 1 phonics
What are tricky words?
Tricky words are those words that can not be sounded out and have to be learnt by sight. Look at the letters and sounds website to find all the tricky words for each phase. The link below shows a video of tricky words being taught.
What is the Year 1 phonic Screening test
The Phonics Screening Check is meant to show how well your child can use the phonics skills they've learned up to the end of Year 1, and to identify students who need extra phonics help. The Department for Education defines the checks as "short, light-touch assessments" that take about four to nine minutes to complete. The checks consist of 40 words and non-words that your child will be asked to read one-on-one with a teacher. Non-words (or nonsense words, or pseudo words) are a collection of letters that will follow phonics rules your child has been taught, but don't mean anything – your child will need to read these with the correct sounds to show that they understand the phonics rules behind them.
Powerpoint for phonics evening March 2019
Information about the Year One Phonics Screening Check Wednesday 20th March 2019
Useful websites and leaflets for more information
National Literacy Trust website
Includes information about how to make reading and writing fun for you and all your family. It promotes their campaign to make 'every home a reading home'. It also offers many links to further websites.
Oxford Owl
This website includes top tips for supporting your child's reading, gamesand activities and e-books to read together.
Phonics Play Games
Lots of super games (most free, no need to subscribe) especially great for practising for the Year 1 Phonic Screening test.
Jolly Phonics
Some great apps and games to reinforce all phases.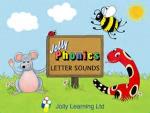 As a parent, your involvement in supporting your child's learning will be a vital factor in determining their success in learning to read!